Metal Finishing Solutions
Metal Plating Company Providing Complete Finishing Solutions for a Wide Range of Industries
Our production capabilities include a metal polishing and buffing department along with three electroplating lines giving Arlington Plating Company the capability to provide a complete metal finishing solution. We have always differentiated our business by being successful taking on difficult metal finishing jobs and turning them into regular production you can count on – time and time again!
Arlington Plating provides the following services:
Supply Chain Management
Incoming Inspection, In-Process Inspection and Cosmetic Inspection
Electroplating
Functional Testing
Light Assembly
Arlington Plating combines skilled labor with metallurgy and science to develop metal finishing processes that meet a wide range of finishing specifications.
We are an approved metal plating and finishing supplier to a wide variety of industries including:
Medical Supplies and Equipment Manufacturers
Aerospace Manufacturers
Oil and Gas
We use ISO 9001:2015 as our quality management system and have expanded that system to comply with the TS-16949 automotive quality management system.
Contact our metal plating company to discuss your application needs or request a FREE quote online!

Nickel Chrome Plating
Layers of plating underneath the bright nickel chrome can include a copper strike, nickel strike, semi-bright nickel, high sulfur nickel, a layer of bright nickel, micro-porous nickel, and a final topcoat of chromium. [...]

Black Chrome Plating
Black Chrome is an extraordinary finish that provides a hard surface possessing corrosion and wear resistant characteristics. [...]

Satin Chrome Plating
The term "satin nickel" years ago referred to a bright nickel finish that was electroplated over a substrate that we polished with a scotch bright abrasive. [...]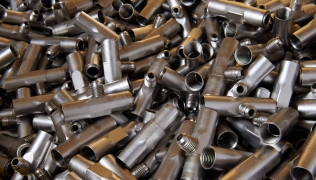 Electroless Nickel Plating
Electroless nickel is a coating process that deposits an alloy of 90% nickel and 10% phosphorus on a wide range of metals. [...]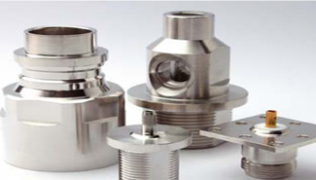 White Bronze Plating
White bronze alloys have a white appearance, good electrical characteristics, without some of the skin sensitivity concerns associated with nickel plating. [...]

Polishing and Buffing
The polishing and buffing process uses a wide range of materials and methods to smoothen a surface depending on the original condition of the part. [...]

SelectConnect Technologies
SelectConnect Technologies offers two methods to metalize three dimensional molder interconnects including laser direct structuring (LDS) and electroless plating of double shot molded plastic components. [...]